Denture
---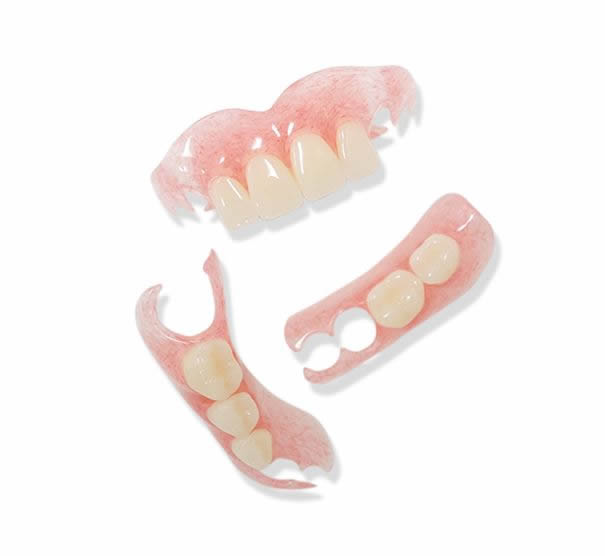 "I can't enjoy eating as my denture doesn't work well…"
"I can't have a big laugh not to show metallic part of my denture"
"It's painful when I have food stuck between my false teeth!"
If you have a problem like above, we recommend our precise denture treatment. There are three treatments if you lose your tooth: "denture", "implant", and "bridge". While the treatment most appropriate for you depends on your mouth's condition, the treatment most frequently used is "denture". However, as the types of material available for denture covered by insurance are limited, such denture is rather weak, which eventually leads an inability to chew, and as a result, the patient can't enjoy eating because of the denture.
We met a patient like this:
The patient was a woman in her sixties and had a granddaughter who is ten. She loved the granddaughter so much, but had a lot of trouble with denture made by other dentist.
The patient couldn't chew hard thing because her denture didn't work well. One day her family went out for steak for the granddaughter's birthday, but she refused to go because she thought "I can't chew hard food like steak with my denture, and I don't want other family members to fuss over me".
However, the granddaughter was very shocked that her beloved grandmother didn't come to the birthday party, and said:
"I hate you grandma! Why didn't you come to my birthday party? I'm hurt!"
The patient recounted such episode during consultation and I can't forget her sad face.
A denture sometimes changes change patient's life.
---
Our
precise denture treatment
We offer denture treatment with emphasis on looking (beautiful appearance). When you use denture covered by insurance, you may try not to show the metallic part of the denture when you open your mouth, or you may cover your mouth with your hand when laughing because metallic parts tend to stand out. We have introduced non-clasp denture with special flexible resin which allows patients to feel comfortable without worrying about showing metallic part of the denture.
---
Features of non-clasp denture
The non-clasp denture differs greatly from other dentures in "looking (beautiful appearance)", but that's not all.
The advantages of non-clasp denture
Barely noticeable as it has no clasp
Other tooth is not burdened as it has no clasp
Fits well to gum and feels comfortable
Elastic and break-proof
Gives no metallic allergy
Rice cake and gum hardly stick to denture
Enables to enjoy eating as denture is thin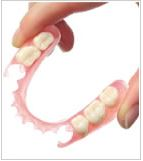 As non-clasp denture is made of material which is completely different from other dentures, patients feel comfortable without burden or stress.
Among various types of non-clasp denture, we use the one called Duraflex.
---
What is "Duraflex" recently introduced to Japan?
Duraflex is the denture with high safety, which passed test for allergy and poison material.
Duraflex has three features as shown below:
You may be concerned about appearances of front teeth as they can be seen when opening mouth. As this denture with transparent color blends seamlessly into gum, it looks more natural.
---
Duraflex is difficult to deteriorate as its water absorptivity is low enough to float on water, and also is less liable to be discolored due to pigmentation as well as being stain-resistant, so you can keep the denture hygienic.
---
Duraflex can be used for back tooth thanks to its flexibility. It feels very comfortable as Duraflex can be formed very thin.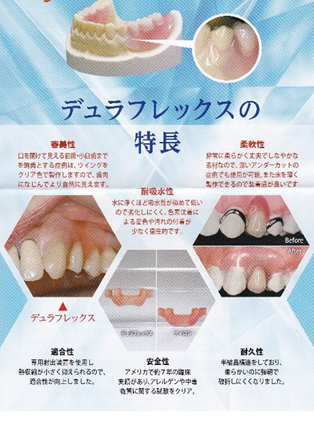 We provide denture treatment which looks fine and also feels comfortable.
If you have any concern about your denture, feel free to contact us.