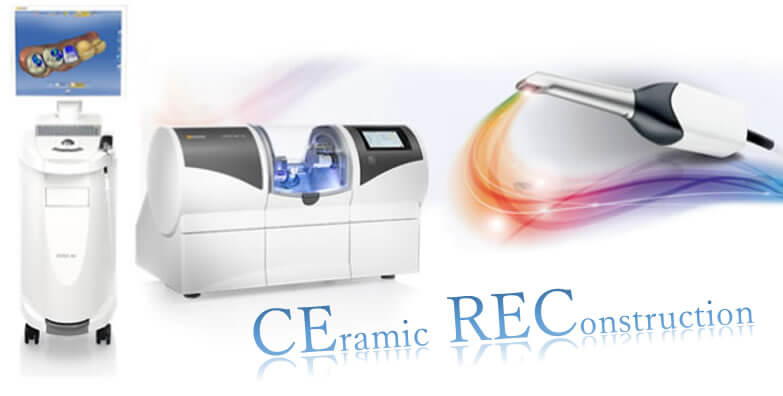 What is CERAC?
Imported from Germany, the medically advanced country, this CAD/CAM system designs and produces dental repairing material by the computer control. The affected area is scanned with latest 3D optical camera and patient's tooth row is replicated on the monitor.
The repairing material is designed on 3D screen of computer and made by a milling machine according to data.
This system enables producing repairing material in dental clinic and eventually shortens treatment time to about an hour.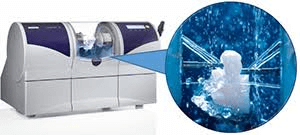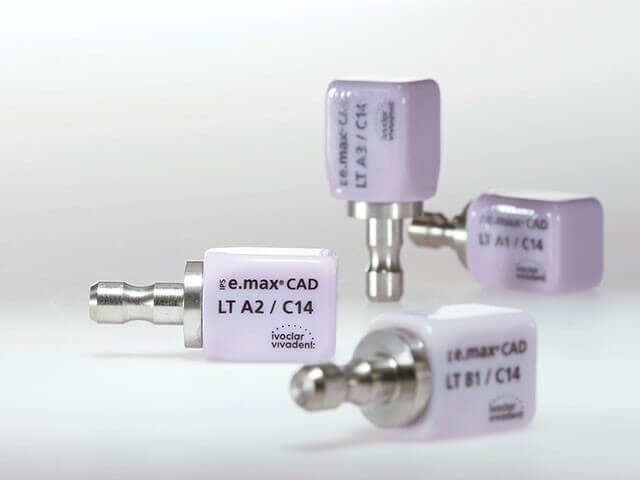 Features of CEREC
1. One-day treatment
We take picture with state-of-art camera to make an impression. This method is called optical impression and performed more easily than traditional method which needs pretreatment. The data of the picture is sent to computer to carry out 3D image processing, and then repairing material is designed.
Making a filling or crown takes just about an hour and treatment will be finished within a day.
2. Stress-free with 3D optical impression
Accurate optical impression is obtained at once by taking a picture with 3D camera at the chairside.
You don't have to put impression material in your mouth to take an impression.
3. Highly accurate prosthesis with computer
Cutting-edge computer system has significantly shortened manufacturing time compared to traditional hand work.
It enables us to constantly provide high-quality and high-precision repairing material.
Workflow of CEREC treatment
Step 1: Scan (making an impression)
Scans inside mouth with 3D optical camera
After grinding treatment part, we scan affected area with 3D optical camera.
This method hardly causes discomfort.
Tooth row of affected area is replicated on the monitor in few seconds.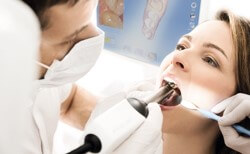 Step 2: Designing repairing material
Designs repairing material on 3D screen of computer
We adjust shape and occlusion of teeth on monitor from different angles.
Then we choose most suitable color from ceramic blocks of various colors.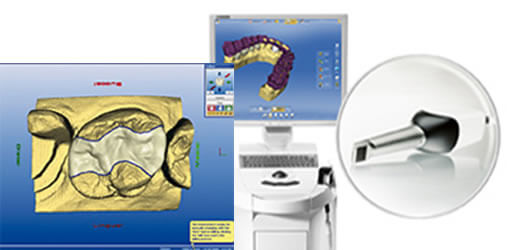 Step 3: Manufacturing repairing material
Processes with milling machine on the basis of design data
The machine called milling machine (CAM) shaves ceramic block on the basis of design data to adjust repairing material precisely.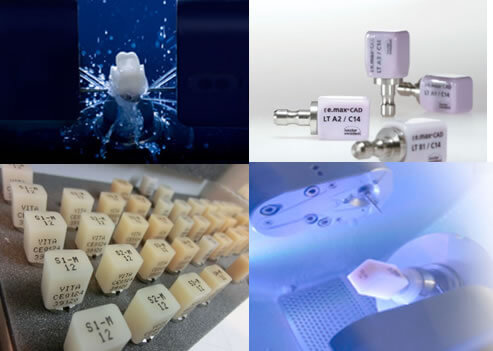 Step 4: Sets in the mouth
Treatment finishes after setting in the mouth.
We set finished ceramic tooth to the mouth with state-of-art bonding technology.
The treatment is now complete. It usually takes about an hour.
CEREC treatment fee
| | | |
| --- | --- | --- |
| | Inlay | Crown |
| Gradia | 70,000yen | – |
| e-max | 90,000yen | 110,000yen |
| Zirconia | 110,000yen | 150,000yen |